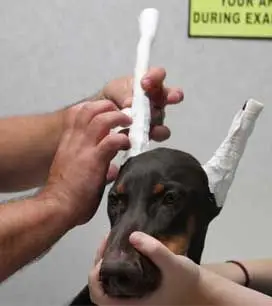 Frequently Asked Questions about Ear Trimming
Why Do Some Dogs Get Their Ears Cropped? There are many reasons people choose to have their pet's ears cropped. The main reason is that it is an American Kennel Club standard for certain breeds. If one would want to show their dog, or sell AKC papered puppies of a certain breed then trimming the ears is standard procedure to showcase a certain appearance. Physical or medical reasons include a reduction in ear infections, in certain breeds, and the ability to improve hearing in some cases. Some people also have guard dogs ear's clipped because they do look more formidable after the procedure, and if a guard or police dog looks intimidating it may reduce actually needing to have an altercation.
Contact Us to Discuss Your Pet's Needs
Call to schedule your consultation with Grand Park Animal Clinic, serving Katy and the surrounding areas with quality veterinarian care for all of your pets. We strive to provide for all of your veterinary needs in a friendly manner that keeps your pet at ease. Call today, (281) 392-3127.
Considering Ear Trim surgery for your dog?
Here's a list of helpful information:
Puppy should be between 8 and 12 weeks of age for surgery. Smaller breed dogs at 16weeks
Puppy needs to be in good health and have received 2 Parvo vaccines prior to surgery.
Breeds we do surgery on: Doberman Pinschers, Great Danes, Pit Bulls, Miniature Pinschers, and Schnauzers
We DO NOT do surgery on: Cane Corso's, dogs that are over the age limit, or dogs that are unhealthy.
Dr. Crouch offers 2 ear length options: Show cut (longer/taller length), or a "Cut to fit the head" length. Dr. Crouch will not provide a short cut (often called a battle crop).
Cost: $600.00

Services included in that fee: Anesthesia (general), Surgery, Antibiotic injection given during surgery, antibiotic ointment, pain medication, 1 month of post-surgical care, the cell phone number of Dr. Crouch's surgical assistant (to be used after clinic hours), and 3 ear postings. Ear postings after your 1st 3 are $25.00.
We do require a non-refundable $100.00 deposit to hold your surgery appointment. It will apply to the $600.00 fee if you come to your appointment, if you miss your appointment, you forfeit your deposit.
Your puppy will need an inflatable donut collar to wear after surgery. We sell them for $29.00, you can also pick one up at any major pet supply store.

On the day of surgery: you will drop puppy off between 8 and 10 am, surgery will happen in the mid-day. You will pick puppy up anytime between 4 and 5:30pm on the same day.

Please do not allow puppy to have anything to eat or drink after midnight the night before surgery.

The after care for Ear Crop surgery can take many months. Once the ear wrap process begins, we will need to see puppy once weekly until the ears are standing.
Please do hesitate to give us a call with any additional questions you have. We are here to help!
(281) 392-3127